information / service
Embossing a individually name in a leather strap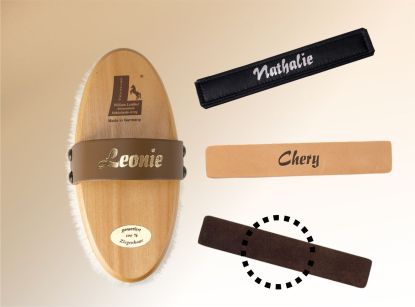 Design our grooming brushes individually for your custumer. For an extra charge, we emboss any desired name in the leather strap.
Customers logo


We apply your logo in place of ours.
Download product pictures
Here you can download our pictures.
Download the company logo of William Leistner
Here you can download our logo.
company portrait for homepage/webshop of retailers
The high quality standard demands of the William Leistner company

Thanks to 138 years of experience and craftsmanship in the manufacture of grooming brushes, the Leistner company produces high quality and durable products.

The quality of a product is only as good as it's used materials.
Therefore they only use carefully processed wood from European forests which is sustainably managed. All grooming brushes wooden backs are made from beech wood, cherry wood or walnut wood which is PEFC or FSC®-certified.

The brush bodies not only have a beautiful grain, they lie securely in the hand and feel comfortable even in low temperatures and wet conditions.

By the end of 2020, more than half of the brush woods will be painted with environmentally friendly water-based lacquer.

For the high quality horse brushes they process 100 % horse hair from the tail, 100 % pig bristles or 100 % wild boar bristles. The bristles are specially long and tight processed . This guarantees the best cleaning effect with gently, kind to the skin care with distribution of the skin tag in the fur and a massage effect.

Leistner Brushes which are made with these natural materials are characterized by their high durability and experience shows that they are functional at least 10 - 20 years.

Many of the other Leistner brushes are equipped with 100 % natural fibers "Union" or "Mexican Fiber".

advantages of natural materials instead of synthetic bristles:
gentle on the skin and coat
no electrostatic charge
sustainable raw material
The high-quality synthetic bristles made of PPN have a high level of stability. The bristles in the Superbrush and other fur brushes have a special wave that can absorb a lot of dirt.
Cleaning instructions for brushes
All beechwood backs of our brushes come from local forests. These beechwood backs have high strength and are robust. We have received countless feedback from our customers that the brushes made from it have been in use for 10 to over 20 years, because all the bundles of bristles are still firmly anchored in this solid wood and the natural bristles have the original length. Our standard range included washing brushes made of beech wood, which were manufactured for agriculture, the majority of which were used as can brushes for cleaning the milk cans. For hygiene reasons, these even had to be boil-proof. There are riders who have also washed our brushes. That is why we had until recently on our website that it is no problem to wash our brushes and brushes. However, a year ago we received pictures in which there were cracks on the caresses. It was a shock for us at first and we searched meticulously for the causes. But when testing the wood samples from dozens of woodwork's, we never came to any other result. Some woods bent after being immersed in the water and or there was a small crack at the top. The brushes are usable, but there shouldn't be a crack. We continued to investigate the causes and find out why this happens:

To do this, we have to compare the manufacture of planks from beech a few years ago with today's manufacturing process. The beech trunks were felled years ago, then left outside for about 3 years. The wood was able to dry naturally and relax slowly. Only then were they transported to the sawmill, where the logs were cut into planks and then boards. These then came into the drying chamber, in which the beech was dried to a certain wood moisture content in about 2-3 days. After that, the wood was so relaxed that after the bundles had been punched in, it did not crack when it came into contact with water. Today, the need for more effective production has not stopped at wood production. Today the beech trunks are felled, removed immediately and then cut in the sawmill. The planks then go into highly efficient drying chambers in which the required wood moisture is reached within a few hours. When this turbo-dried wood comes into contact with water after the production of the brushes, into which up to 600 bundles are punched, it is not surprising that some of these woods bend slightly or tear at the front.

We therefore recommend brushing the brushes only with a brush cleaner. In the case of heavy soiling, rubbing with a damp, absorbent cloth helps. This is also a good tip for grooming with goat hair. Damage to brushes and brushes caused by the contact of the beech wood with water is excluded from the guarantee.


Shorten straps
The straps of the Leistner brushes can also be shortened in length if necessary. To do this, simply push a narrow screwdriver between the nails and press out each nail individually with light pressure and turning.
Shorten the strap as necessary and use a hammer to knock it back into the hole. If the nails are bent, we can send you a replacement.

Material science
Horsehair is the shorter and harder body hair as well as the mane and tail hair of the horse.

In the past, the long hair was mainly used to make wigs worn by women and men of the nobility. The short hair was used as cushioning material, as a filling for mattresses, horsehair pillows and riding saddles or in tailoring as an insert.

Because of its special properties, horsehair is also used in the upholstery industry. This outer fabric made of around 70% horsehair (weft) is still needed today for refurbishing old and very high-quality new upholstered furniture and as wall covering for representative old rooms.

All users use the special properties of horsehair such as extreme durability and the permanently high bounce of horsehair.

Tail and mane hair is used in horse brushes and brushes.
We only use the higher quality, firmer material from the tail. Due to the permanently high bounce of horsehair, the hair bundles always return to their old shape after each use.

The surface is rough due to the keratin layer, so dirt particles from the skin and fur can be wonderfully picked up by the brush's horsehair and then stripped off again by the currycomb.

Only hair that is really clean can shine.

Advantages of regular care with brushes with 100% horsehair or in a mixture with other natural fibers:

+ best possible cleaning effect

+ permanently high bounce (always returns to the old shape, thus unsurpassed price / performance ratio of the brushes)

+ Saving on expensive gloss sprays

+ Saving of veterinary costs in the case of dermatitis, favored by unsuitable cleaning supplies

+ Feel-good factor thanks to the massage effect when cleaning

+ Avoidance of the unpleasant electrical charging of the fur when cleaning

Experience has shown that our grooming brushes with 100% horsehair fulfill their function for at least 10-20 years.

Please note our cleaning instructions (above)!

(source among other Wikipedia)


No animal had to die for a hair!

Pig bristles (bristles from domestic pigs or wild boars) are also known as natural bristles. The sole term "bristles" may only be used for pig bristles, but the term "natural bristles" is also valid. The long and strong bristles of the back are mainly used in brush production.

The bristle hair of the pigs is used in brushes and paint brushes. For this purpose, the bristle dresser combed the raw pig bristles to separate the wool, sorted, cleaned with alum water or soap and bleached in the sun or with sulphurous acid, sometimes also dyed.

The tip of the bristle (also called "flag") is split up into three to four fine fibers - comparable to split ends, only the partial fibers of the pig bristles keep their shape. These are important for paintbrushes and brushes. This allows a lot of paint to be absorbed and the paint application is more even. Together, the tips create a soft surface, so that the painted surfaces or layers of paint that have already been applied are not scratched. When the bristle tip wears out, the process of splitting continues with the bristle hair now becoming shorter. As a result, the good properties are retained even with continued use.

With our grooming brushes, we cut off the thinner ends and the tips before punching and only use the taut part of the bristles to increase the strength of the pig bristles to pick up dirt.

The bristle hairs of pigs are conical in shape, so they have a larger diameter at the bristle root than at the tip.

The term "bristles" is used all too often nowadays for synthetic bristles or bristle mixtures with synthetic bristles. This should give the impression that the brushes are of high quality.

Advantages of regular care with brushes with 100% pig bristles:

+ best cleaning effect

+ durable natural materials, thus unsurpassed price / performance ratio of the brushes

+ Saving on expensive gloss sprays

+ Saving of veterinary costs in the case of dermatitis, favored by unsuitable cleaning supplies

+ Feel-good factor thanks to the massage effect when cleaning

+ Avoidance of the unpleasant electrical charging of the fur when cleaning

Experience shows that our grooming brushes with 100% pig bristles fulfill their function for at least 10 - 20 years.

Please note our cleaning instructions!

(source among other Wikipedia)


Goat hair has a particularly fine structure and thus the ability to bind even the finest dust. This particularly cleans the fur and the light can break in the fur: pure shine!
Goat hair has an inherent fat layer that has a dirt-repellent effect. This makes cleaning the goat hair brush easier. As with all natural materials, there is no static charge during use.
Our goat hair comes from goats from free-ranging herds in China. The goats are sheared regularly to gain hair.
The basic requirement for a shiny coat is a healthy and balanced horse. Otherwise a goat hair brush cannot work miracles.
Cleaning advice for grooming brushes with goat hair::
Please
do not
use a curry comb with goat hair as with other grooming brushes. Please clean the goat hair brush only with a damp cotton cloth or
carefully
with a brush with wooden pins like Detangle 4 s 86 or 4 s 85 or
carefully
with an intact comb without burrs (at your own risk, as you do not know beforehand ).
The loosening of individual goat hairs in the bundle is not a manufacturing defect and therefore also not a reason for complaint.
Have you already used the wrong currycomb?
The bundles of grooming brushes with goat hair are very firmly anchored in the beech wood. One can take a pair of pliers and try to pull out a bundle of goat hair. Only a strong person can do that.
If I take a bundle and pull out a few hairs bit by bit, then after a short time the bundle is so empty that the rest is easily pulled along with it. The same thing happens if the currycomb has a rough surface or notches. This is how you pull out such "flags".
As soon as you notice that individual hairs are loosening, please cut these bundles smoothly with the scissors. If you then follow the cleaning instructions above, no more bundles will fall out, only the last hair of the bundle that has already been thinned out. The brush can simply continue to be used.
Thank you for your understanding!
Fiber, also called natural fiber, Mexico fibre or tampicofibre, is a light yellowish natural fiber.

It is obtained from the leaf veins mainly of two agave species, exclusively grow on the Mexican high plateau. The finished fiber bears the trade name "Tampico-Fiber ", named after the port city of Tampico.

The advantages of fiber are its exceptional resistance to acid, alkali and heat, equally high elasticity, optimal water absorption and skin friendliness. Therefore, the natural fiber fiber has in the areas of scrubbing brushes, bath brushes, massage brushes and dish brushes are of great importance.

As with many natural fibers, there is also synthetic fiber, but natural fiber has a higher one resilience and, unlike synthetic fibers, absorbs water.

We also use bleached fiber, not only because of the nicer look, but because it is also a little softer and can absorb the dust even better thanks to the more open structure.

advantages of fibre:

+ extra thorough cleaning due to the special structure of the fiber in contrast to smooth synthetic bristles
+ Skin and fur are spared
+ high righting ability
+ ideal after riding to remove sweat and moisture from the fur, especially in the saddle position
+ does not generate any electrostatic charge

Please note our cleaning instructions!

(source Wikipedia)
Union is a plant fiber like fiber, but in a much harder version. For this purpose, fiber and basin are mixed together in order to obtain a material that is suitable for removing particularly stubborn dirt. Bassine is a very hard palm leaf fiber, also from the leaf veins of the Palmyra palm that occurs in India and Sri Lanka.
The legislature allows grooming brushes to be called horsehair grooming brushes, in which synthetic bristles are mixed with the horsehair. The retailer should therefore look carefully here.

If brushes with horsehair mixtures are used very heavily or even washed in the washing machine, it becomes apparent that the proportion of synthetic bristles has no permanent resilience like horsehair and remains bent.
Horsehair does not have sharp and burr cut edges like synthetic bristles and does not become statically charged.


Brushing in horse care, what is more hygienic?
It is widely believed that plastic is generally more hygienic than wood. But the exact opposite is the case!
Because, in contrast to plastic, wood has an antibacterial effect, as studies by the Federal Biological Research Center for Agriculture and Forestry in Braunschweig have shown. "The antibacterial effect occurs both on the surface and inside the wood," explains Dr.-Ing. Helmut Steinkamp, project manager at the German Institute for Food Technology. There are various studies on this topic, e.g.
here
. Further studies on this topic can also be found on the
Fa. Wilms website
or at
www.baumarkt.de
.
Sales aids