High quality horse grooming brushes
Welcome to the official website of the company William Leistner GmbH & Co. KG.
The company Leistner is a manufacturer of William Leistner horse grooming brushes for equine care. Brushes for horses are produced in unique large variety of the best materials for many decades. The appearance and color of wood, bristles and straps are exactly matched.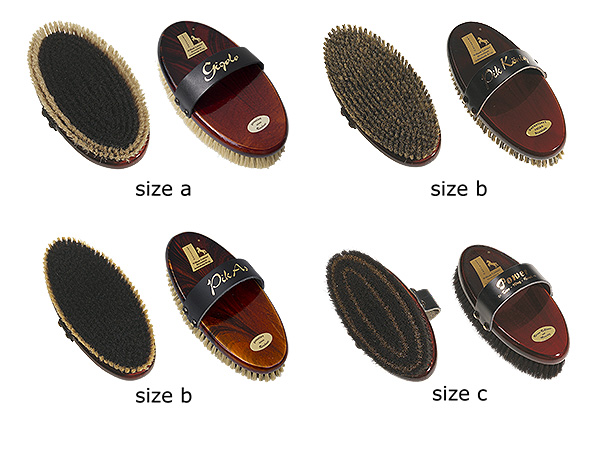 production
We have more than 170 different horse brushes and brushes from our own production for our customers in stock. We process only very high quality materials.

You always get the best quality from us. If there is to read at our brushes "100 % horsehair" or "100 % bristles", you will get 100 %. Unfortunately, the competitors call their brushes also "horsehair brush", but in these are often only 20 % to 30 % horsehair or cow hair contained. And by horsehair there are big differences in quality. We use only the best qualities from the horse tail, not from the mane or or even with cow hair. This explains the price difference.

Please call particular attention to our marvelous brushes, which are produced only by us, like "Shiny" with bright tips, brushes with Brandmarks, the brush "Ultimate", as well as the new series "Feltie" and also with protective rights, as well as the "Wonderbrushes®" and the Two-Way brushes.
materials
In own production there are used a variety of materials:
86 different wooden backs

beech wood
cherry wood
coloured or clear lacquered, raw or waxed
The brush bodies do not only have a beautiful grained pattern, but they have also a perfect shape to fit in to the hand and give a comfortable feeling even at low temperatures and wet weather. Plastic is generally believed to be more hygienic. Exactly the opposite is the case! Wood, in contrast to synthetic materials has an antibacterial effect, as studies of the Federal Biological Research Centre for Agriculture and Forestry in Braunschweig have shown.

80 different (in type and length) bristles, hair and fibre materials

pig bristles
wild boar bristles
horsehair
goat hair
cocos fibre
natural fibres: 100 % stiff Union mixture or softer Fibre
crimped brass wire

horse hair mixture
For natural products we process 100% pure natural bristles or 100% pure horsehair. The bristles are long and dense. This guarantees the best cleaning results and shine of the coat with gentle, skin-friendly care, as well as a high durability and longevity of our grooming brushes. Our bristles have quality of "90 Tops". This means, at least 90 of 100 bristles have the whole length.

45 different (smooth, waved, colours, diameter) PPN bristles
special angular bristles for our wonderbrushes and our wonderbrooms
belts of

genuine leather (vegetable tanned) 39 different pc.
rubber and nylon 34 different
They are hand nailed on to the wooden bodies. If necessary, you can shorten the straps yourself.
Embossing a name
We emboss a name on the leather strap for you.
horse grooming tools
Daily grooming of your horse isn't only an annoying work to clean the coat, but it intensifies the bond between horse and rider. The horses feel it as a pleasant massage and man can escape from his everyday stress rather quickly. Moreover the rider can notice changes of the coat/skin or signs of illness which can be treated immediately. Whether before or after riding or for large cleaning, the company Leistner meets all needs with over 180 different horse brushes of own manufacture.
The assortment is completed with other horse grooming tools:
assortment for kids:

horse grooming brushes in 3 sizes maxi, midi and mini
PPN bristles - high quality - see down below
with 100% pure, even coloured horsehair
with cocos fibres
with brand breed Pony
with reflecting foil on the back
with clear or colour lacquered beech wood bodies and quality elastic belts
velcro closure strap for easy adjustability to hands
Very cute! PPN bristles with dots, belt, coloured lacquered beech wood with white dots, suitable bow at the elastic strap
horse grooming kit
cuddle brush
and much more
Advantages of Leistner brushes
The quality of a product is only as good as it's materials used. Therefore we only use carefully processed wood from European forests which is sustainably managed. All grooming brushes, apart from one sort of wash brushes, are made from natural wood. The wood is available in brown grained, clear or colour lacquered or a natural finish. In our organic series, they are treated with beeswax. Our synthetic bristles are made from PPN, they are of very high quality and stay in shape.

Coat and skin of the horses are thankful for a care with a brush with pure horsehair or pure bristles. For example as a bestseller with horsehair you can buy the brush »Pik As«. If you wish to buy a brush with extra tough bristles »Pik König« could be your one. Another good choice are horse grooming brushes with pure wild boar bristles, which are especially stiff and dense. They remove all dust and draw oil from the coat to the surface for a fabulous shine. You can choose between size b brush »Anthony« or size c brush »Esprit« (Two-Way-Brush). The company William Leistner uses only the best horsehair and high quality bristles from the pig or wild boar for the high quality horse grooming brushes. Horsehair has the advantage of a high resilience, this means it goes back to its original shape.

A leistner brush is a durable purchase with appropriate care. Therefore the company Leistner equips all with pure horsehair reported body brushes with 100 percent horsehair. Pure horsehair also has two other advantages: it doesn't have sharp and burred edges like synthetic bristles. Furthermore they are not charged electrostatically. All grooming brushes in size "b" are dome shaped to provide close contact to the coat.
Pure horsehair with a double high edge removes the last remainders of dust and gives the coat a beautiful shine. This applies also to brushes with 100 % bristles. (The term »bristles« means pig bristles.)

The better the product, the better the outcome care. Despite further increases in raw material prices, 41 body brushes of our product range are fitted with 100 % bristles and 100 % horsehair. The extra long and dense bristles get easily the dirt from the coat. There are up to 600 bundles per brush what causes a huge dirt absorption. Pure bristles and pure horsehair can remove significantly more dirt particles than synthetic bristles due to their structure (never as smooth as synthetic bristles).
So they groom:
without skin irritation
effectiv
time-saving
without charging electrostatically
Of course the company Leistner also offers horse grooming brushes with a cheaper horse hair mixture of snythetic and pure horsehair/bristles for example »Ruby« or »Lucky«. But in these the proportion of horsehair/pure bristles is so high that you can see it to the naked eye. Synthetic bristles and cheap mixtures with low proportion of horsehair have a high gloss. Our mixture has a matte gloss because of the high proportion of horsehair. Imaging you buy a horse grooming brush which is fitted with mixtures of bristles and synthetic belts. It also has a premium seal. But this seal does not transform the brush to a premium body brush.
Exclusively available at Leistner
Horse grooming brushes with motif brand breed as logo, belt and bristles:
Hannoveraner
Holsteiner
Oldenburger
Rheinländer
Trakehner
Westfale
with logo print and embossed name on the belt:
Württemberger
Isländer
Haflinger und
Deutsches Sportpferd
Süddeutsches Kaltblut
Bayerisches Warmblut
Mecklenburger Warmblut
Schweres Warmblut
All high quality horse grooming brushes can be fitted with special belts:
for a sparkling impression: Leather straps made with SWAROVSKI ELEMENTS Lined with soft elk leather or nappa leather or "crocodile leather"
Extravagant: Crocodile leather straps - we use high quality, full grain cowhide which is stamped with crocodile skin pattern. Each belt has a soft elk leather underlining.
soft leather hand strap with a hook and loop fastener
very comfy: elk leather straps. double-sided, soft padded elk leather provides a unique, super comfortable feeling!
belt with Edelweiss decoration
stippled belt


The Feeling Brush is anatomically formed, comprising a beech wood back and a soft leather hand strap (can be adjusted in length). This allows the hand and brush to become one, allowing you to groom your horse without your hands and arms becoming tired. The brush takes the chore out of grooming, allowing you more time to enjoy your horse. Made from pure horsehair with a double high pure bristle edge, which removes the last remants of dust and gives the coat a beautiful shine. Registered wooden body design. With Quality pass.

Two-Way-Brushes Power and Esprit
The angular bristle position allows a variable handling and ensures a maximum cleaning effect. One way it is used for deep grooming - the other way for a polishing finish! Ideal during shedding season.

Also available exclusively at Leistner is:
Horse grooming brush »Ultimate«
The ultimate shine
Two rows horsehair remove the dirt to the skin and the hair goats recent dust in one pass. The result: long-lasting shine of the coat. Convenient in daily use, also ideal for the tournament.

Wonderbrushes and wonderbrooms
Miracle Cleaning!

super fast
thoroughly
effortless

Wonderbrush®
Wonderfluffbrush - Wunderbürste® dirt, animal hair and fluff are removed by angular bristles, 1.3 inches long, quickly, thoroughly and without effort from upholstery, pet baskets, cushions, scratching boards, car boot, clothing, seats, luggage in cars. Removes pet hair off fleece jackets etc. Comes in a box with information in 8 different languages 5.91 x 1.77 inches
Maximum cleaning effect from mane to hoof, saving energy and time "Effective cleaning at low effort makes horse care become a pleasure"
Patent angular bristles, 'Cleans like Magic!' The taught angular special bristles sink deeply into all gaps, corners and uneven surfaces/ structures to remove the most stubborn of stains.

We also offer brushes for dogs and small animals.